The Andaz Singapore opened in October 2017 as the first Andaz-branded property in Southeast Asia and just the 17th worldwide. This upscale and unabashedly stylish brand under the Hyatt Hotels group has long attracted a set of travel-savvy and discerning clientele and I had been curious as to how the brand would be interpreted in Singapore. The Lion City has just two Hyatt hotels – the other being the Grand Hyatt Singapore which is a Category 5 Hyatt property.
I recently went for a staycation at Andaz Singapore to see how things materialized – and I must say I was impressed. 2017 was a pretty monumental year for hotel openings in Singapore, with the likes of Sofitel Singapore City Centre, InterContinental Robertson Quay and Yotel Singapore opening their doors in the span of a few months. Of the properties that opened lately, I have to say that Andaz Singapore is the clear winner in terms of design.
Andaz Singapore occupies the upper floors of one of the two Duo skyscrapers located in Bugis and is a short walk from Bugis MRT. At the ground level, there is a lobby to cater to guests arriving and departing by car as well as a small group of staff to help with bags and guest concerns. The sleek interiors conceptualized by Andre Fu of AFSO is an immediate stunner but there is even more to impress at level 25 where the main reception is located.
Deluxe King Room
My room for this particular stay at Andaz Singapore was the Deluxe King. Room categories here are not complicated. There are essentially three versions of the Standard Room – the second being the accessible type and the third having a view. Worth noting is that due to the shape of the building, the layouts are not as uniform as one would expect in most hotels.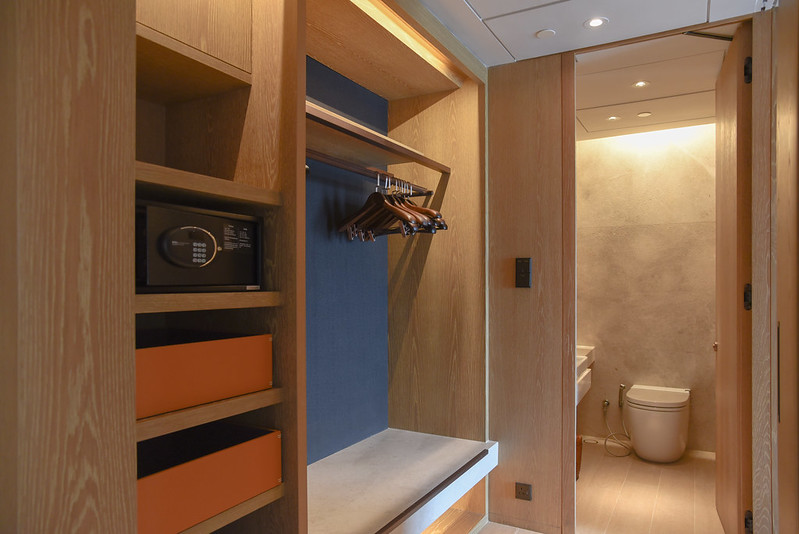 My room in particular could be thought of as two different enclosures. I entered via a foyer and the spacious walk-in closet which could actually be sealed off from the sleeping quarters if one wishes to. At 38 square meters, my room carried the layout of a modest apartment.
At the proper sleeping quarters, I was greeted by floor-to-ceiling windows that open up to the majestic Singapore skyline. There are separate day and night curtains which could be adjusted automatically via a panel at the bedside. Automatic controls aside, the space is large enough to accommodate a sofa as well as a desk.
The eventual choice of using a round table as a working desk is an interesting one. The vibe is less business-y although those planning to get some work done will find plenty of power outlets nearby. The hotel has also done away with traditional stationery sets and the mini-office kit, preferring instead to keep things clutter free which is fine by me.
One of my most loved feature in the room is the sound system. I don't use Apple products anymore so iPod docks in hotel rooms practically have no value to me. Thankfully, Andaz Singapore offers Bose Bluetooth Speakers (the Soundlink Mini II to be exact) to allow guests to stream their own music from the comfort of their own devices.
Another thing to love about the room is that non-alcoholic drinks in the minibar are free. I spotted a generous supply of juices, canned drinks as well as San Pellegrino beverages in the minibar. For those who prefer alcohol, the hotel's own Pale Ale is also available at a charge. At the round table, there are bottles of vodka and whisky (chargeable) with instructions on how to concoct your own cocktails. For those preferring their daily dose of caffeine, the room also comes with a Nespresso machine and 4 coffee capsules.
The room is done up in such a way that you won't find a conventional bathroom – at least not the marbled one that guests would imagine. The sink, shower and toilet are in three separate enclosures and the wooden/cemented construct makes these areas feel very much like part of the room rather than as a "wash area" per se.
Toiletries are from Christophe Laudiamiel, a perfumer based in New York. This was frankly the first time I've encountered this brand but it seems like customized scents catering to Andaz Singapore were devised, as suggested by the "Singapore Fusion" indicated in the labels.
Andaz Residence Suite
I returned to Andaz Singapore a few years later to check out a different room category. What drew me for another staycation here is the fact that Andaz Singapore has some rooms with floor-to-ceiling windows across two sides of the room. For this particular occasion, I booked the Andaz Residence Suite which has exactly that – and in the bedroom nonetheless.
The Andaz Residence Suite comes with its own living room, a powder room, separate bedroom, walk-in wardrobe and bathroom with tub. It measures 76 square meters or 818 square feet – bigger than most 2 bedroom condos in Singapore these days!
For this particular stay, I noticed the number of complimentary drinks in the minibar has been reduced. They now only give out 6 bottles of drinks (an assortment and still with the Andaz Pale Ale) with each stay versus the 12 previously. On the plus side, they remain quite generous with the teabags and coffee capsules. I spotted no less than 12 Nespresso coffee capsules featuring 4 types of coffee and at least 18 tea bags from TWG. I do not remember getting this much during my previous stay at the Deluxe King. Perhaps they gave more because this is a premium suite.
The suite features a variety of furniture – from a long couch at the living area that can double as a day bed to a rocking chair in the bedroom where you can just lounge and enjoy the view. They even thoughtfully included a small moveable stand from where it's possible to rest your drinks (or a book). As with the other room types in Andaz Singapore, there is no rectangular desk. Instead, you get a round table where you can do your work.
The main difference between the Residence Suite and Studio Suite in Andaz Singapore is essentially the interchanging of the living area and bedroom's positioning. Both are corner suites. In the Residence Suite, the corner is found in the bedroom and as such, you get the two corner windows in the bedroom. In the Studio Suite, the corner is found in the living area so you get the corner windows there. Both suites are of the same size. I deliberately booked the Residence Suite because I thought it would make for a nicer photo if the corner was in the bedroom. But I have seen especially nice photos taken in the Studio Suite as well. It can make for an instagrammable photo if you order in-room dining and do a spread in front of the sofa against the corner windows.
Another highlight of the Andaz Residence Suite or the other suites for that matter is the photogenic bathroom with both a his and hers sink as well as a bathtub at the far end. This is in contrast to the lower category guestrooms which do not have a tub. The bathtubs here are the attached type and thankfully the showers are not placed on top of it. Instead, it is placed beside the tub. It is a rare luxury to be able to bathe or shower with plenty of natural light coming in!
Sunroom – All-day Refreshments & Wine Hour (5PM – 7PM)
Andaz properties don't have an actual club lounge but Sunroom takes its place (sort of) in Andaz Singapore by offering free-flow wines and beer (i.e. the pale ale) to guests from 5 to 7pm daily. At other times of the day, guests can also request for coffee and tea which are provided on a complimentary basis. It's a nice place to chill or have a quiet business meeting. I particularly liked the hanging potted plants which matched the beige-colored furnishings to a T.
2020 update: After staying in Andaz Singapore again recently, I found that the wine hour at the Sunroom from 5 to 7pm no longer applies. Guests still get to have the Sunroom as a lounge of sorts as the venue now serves all-day refreshments such as lemonade, iced tea and coffee but no alcoholic drinks. I am not sure if this is because of the "current situation"(i.e. bars cannot operate) but that's how it stands as of now.
Restaurants at Andaz Singapore
I did not really manage to have a proper meal (aside from breakfast) at Andaz Singapore but the group of restaurants at the lobby level called "Alley on 25" are so well-designed to the point that looks alone are probably enough to attract people to visit. Of these, I found the yellow hues at Icehaus quite soothing and the metallic theme over at Smoke and Pepper to be particularly unique.
If you have the time, the rooftop bar – Mr. Stork – at the 39th floor is also worth checking out for the views. The tent-like seats are great to lounge around with loved ones or with friends over cocktails while appreciating the views as the sun sets. There is also a grill located one floor below at the 38th floor called 665F.
Facilities
There is also a gym located next to 665F. It's not particularly large but I noted the numerous exercise equipment here. You won't find large open spaces to put down your exercise mat but to compensate that, you'll have more options for machines while working out here. You have to book a slot to use the gym but it's usually not difficult to get a slot even if you make a last-minute booking. The swimming pool also now requires advance booking as well and for this, it is recommended to book a couple of hours before at the very least.
As a tower hotel with no actual "grounds" to speak of, I was particularly impressed by the property's garden in the sky which is located in the same level as the lobby. There's plenty of greenery to go around as guests make the short walk to the swimming pool. The mid-rise garden and pool reminds me a bit of the Park Hyatt Bangkok which also opened in 2017. If you walk deeper into the vegetated area behind the swimming pool, you will also notice a small garden where the hotel f&b team grows some herbs that are used in the restaurants. They even grow their own bananas.
If you are staying at Andaz Singapore, the views would be more than enough to tempt you to go for a dip. Save for the pair of Gateway buildings next to it and the other Duo tower, the views are relatively unobstructed and one could see as far as the Marina Bay area. I am not sure whether it is a function of the clientele but on my many visits to the pool, I never found it too crowded.
Breakfast
My stay at Andaz Singapore came with breakfast which guests could opt to have either at Icehause or at Auntie's Wok and Steam. Guests could go for the former if they wish to have western style dishes, the latter for Chinese or local dishes. In case you did not book your stay with breakfast, the morning meal here costs S$35++ per person.
I went to have my breakfast at Icehaus where I was asked for my choice of eggs while a relatively modest buffet that included sausages, bacon, fruits and pastries complemented the morning meal. As a tip, make sure to try the waffles. They are made fresh and are delicious!
You can also check out the breakfast menus at the respective venues here:
Breakfast menu at Icehaus – Andaz Singapore
Breakfast menu at Auntie's Wok and Steam – Andaz Singapore
Verdict
Andaz Singapore is quite possibly the most stylish and beautifully-designed hotel in Singapore at the moment. The rooms are plush and modern without being over-the-top, a concept that's sure to appeal to both locals on a staycation as well as travelers visiting the Lion City. Despite being a city centre tower hotel, the look is unique enough to still provide the notion of an escape.
Booking It
Andaz Singapore has changed their promotional staycation rates several times since 2020 when they reopened for staycations. They currently have a staycation offer for S$270 net inclusive of a 1 night stay at a King Bed Room for 2 with breakfast and S$100 dining voucher. If your habit is to dine-in during your staycations, you could think of the room rate as being S$170 net when deducting the cost of the voucher. You can book this staycation offer here.
Moreover, this hotel is also eligible for usage of the SingapoRediscovers vouchers.
Andaz Singapore
5 Fraser Street
Singapore 189354
+65 6408 1234