For a country that has often been branded by its detractors as dull, Singapore's nightscape is everything but. A world apart from the day, the same buildings which look neat but otherwise unremarkable against the sunlight turn into a homage of modern construction with an added layer of mystery, sleekness and futurism once the sun sets.
the amazing singapore skyline at blue hour… the building where I work is one of the buildings shown in this picture

As a (almost) local here, I witness this spectacle almost every night from where I work. Despite the sweltering heat, I sometimes prefer to walk above ground on my way home (rather than on the underpass) just to see this when I need a break from the masses of drone-like men and women making the commute home. The skyline looks even better during blue hour – that few minutes when the sun sets but just before it completely turns into night.
Many tourists do the standard walking tour of Singapore around this area, no doubt about it. But I find that barely anyone does it at night, which is a shame. The perfect time for a walking tour around the Civic Center / CBD area is actually at night. Not only is it cooler at this time, but everything appears sleeker than usual, even sultry. My suggested Downtown Singapore walking tour after the jump.
the marina bay sands – the viewdeck is that spaceship looking thing on top
DURATION >> 3 Hours
DIFFICULTY LEVEL >> Easy
START >> 6:30PM – Marina Bay Sands Rooftop Viewdeck
It may cost $20 to go up but trust me the sunset is spectacular (if it's a cloudy / rainy day, don't bother). The good thing about the viewing deck is that it faces the west when viewing towards the direction of the CBD. It makes for a pretty dramatic sunset when your timing is right, when hues of yellow seem to swirl in an airy pool of blue.
the esplanade – at the far left – is also known as the 'big durian'
7:30PM – Esplanade
Known also as the "Big Durian," it forever changed the Singapore skyline when it was unveiled — not because of any records in height but more because of its porcupine-like metal paddings. Along with the Merlion and the Marina Bay Sands which are both close by, the Esplanade Theater is one of the most recognizable landmarks in the country.
spouting water all day… it never tires
7:45PM – Merlion
Just a short walk on the bridge from the Esplanade is the Merlion, a kitschy if somewhat outdated landmark of the country. As one of the undeniable symbols of Singapore, the Merlion had undergone a profound shift in role recently — it generated a bit of controversy during the recent Singapore Biennale when the figure was boxed up and served as a centerpiece for a makeshift hotel room called "Merlion Hotel." Now that's one hotel souvenir you can't take home!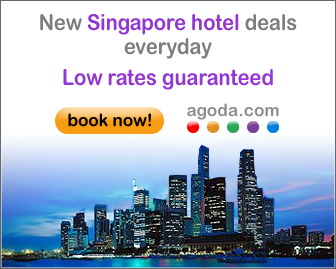 looks much better when lit up at night
8:00PM – Fullerton Hotel
Across the street from the Merlion is the Fullerton Hotel. This hotel dates back from 1919 and was used as a post office, and later a government building for the tax authorities. It only turned into a hotel in 2001 – around 10 years ago. I still remember reading about its grand opening in TIME magazine, when it was hailed for its effective usage of heritage architecture. The inside is also worth a look for its nostalgic-looking grand atrium.
the rear view of the singapore skyline from the boat quay area is just as fantastic
8:00PM – Singapore River
While at Fullerton, you'll inevitably come across the relatively narrow Singapore River which is the gathering spot for office workers having lunch, the site for riverside restaurants (Boat Quay) and which is still one of the quintessential nightspots in the city (Clarke Quay). There's also a great rear view of the city skyline from Boat Quay. From the Esplanade, it's a pleasant walk by the river side until the Clarke Quay area where you will find…
mmm… just looking at this makes me hungry
8:15PM – Dinner at Songfa Bak Kut Teh
By this time, your stomach will most likely be grumbling and won't agree to this tour continuing until it gets filled. Well, you're in luck! With your limited stay in the city state, there's no better place to have dinner than in a joint serving local fare. Song Fa Bak Kut Teh just fits the bill. Located at 11 New Bridge Road (Tel: +65 65336128 — Dinner for two at SGD $20), make sure to try their specialty which is the pork ribs soup. Flavorful and tender, it's a favorite among locals. The place gets packed easily which is why 8:15PM is just the perfect time to have dinner here.
best is to view the national museum from across the street at night
9:00PM – Singapore National Museum
After a hearty meal, take a leisurely walk to Singapore National Museum which is housed in a building dating back from 1887. It would be long closed by the time you arrive but you'll find it all lighted up as well. If you're in Singapore in late-August or early-September, make sure to catch the annual Night Festival (admission: free) which is held here.
END >> 9:30PM – Singapore Sling @ Long Bar, Raffles Hotel
By this time, your feet will be getting tired which is just fine as the next stop will be the last. Cap your walking tour at the Long Bar of Raffles Hotel – Singapore's quintessential heritage hotel. Though sounding like a cliche by now, order none other than the Singapore Sling which was said to have been formulated right in the same hotel. It's a cocktail made from gin,  cherry, benedictine and pineapple juice. Just one sip and you'll realize why drinking this is still a must-do while in Singapore. Enjoy!
the singapore sling
Map of the suggested walking tour here:
You may also check out an article I wrote on insider tips for Singapore here.